Adventures in Uzbekistan
Adventures in Uzbekistan
Tour Code:
ADU 01
Status:
Available
Adventures in Uzbekistan
Country: Uzbekistan
Type of tour: cultural
Season: April - October
Duration: 15 days
The itinerary: Tashkent – Nukus – Muynak – Khiva – Bukhara – Nurata – Aydarkul lake - Sentyab – Samarkand – Tashkent – Chimgan – Charvak – Tashkent
Unusually combined tour will get you know the ancient cities of Uzbekistan - Samarkand, Bukhara, Khiva and its nature. You will ride along the picturesque canyon in Aktau mountains. Majestic desert ship - a camel will get you to the lost village in Kyzyl-Kum sands. There you will meet the local people who still keep the traditions and ancient style of life. You will visit rocky art gallery of primitive men in Sarmysh gorge, a huge Aydarkul lake in the middle of a desert, Chimgan mountain ski resort in Tien-Shan mountains.
BRIEF PROGRAM OF THE TOUR
| | |
| --- | --- |
| Day 1 | Arrival to Tashkent. Transfer to the hotel. Rest. |
| Day 2 | Flight to Nukus. Sightseeing. |
| Day 3 | One-day trip to Muynak. On road excursion to Mizdakhkan. |
| Day 4 | Transfer to Khiva. On the way visiting an antique fortress Ayaz-Kala. |
| Day 5 | Sightseeing in Khiva. |
| Day 6 | Transfer to Bukhara via Kyzyl-Kum desert. Rest, walk across evening Bukhara. |
| Day 7 | Sightseeing in Bukhara. |
| Day 8 | Transfer to "Safari" yurt camp. On road excursion to Sarmysh gorge petroglyphs. |
| Day 9 | Transfer to Sentyab-Say gorge. Walking in mountains. Night in homestay. |
| Day 10 | Transfer to Samarkand. After lunch sightseeing in Samarkand. |
| Day 11 | Continue of sightseeing. |
| Day 12 | Transfer to Tashkent. Half-day sightseeing. |
| Day 13 | Transfer to Chimgan mountains. Walking and hiking on Charvak mountain reservoir. |
| Day 14 | Transfer to Tashkent. Rest, shopping and buying suvenirs. |
| Day 15 | Departure from Tashkent. |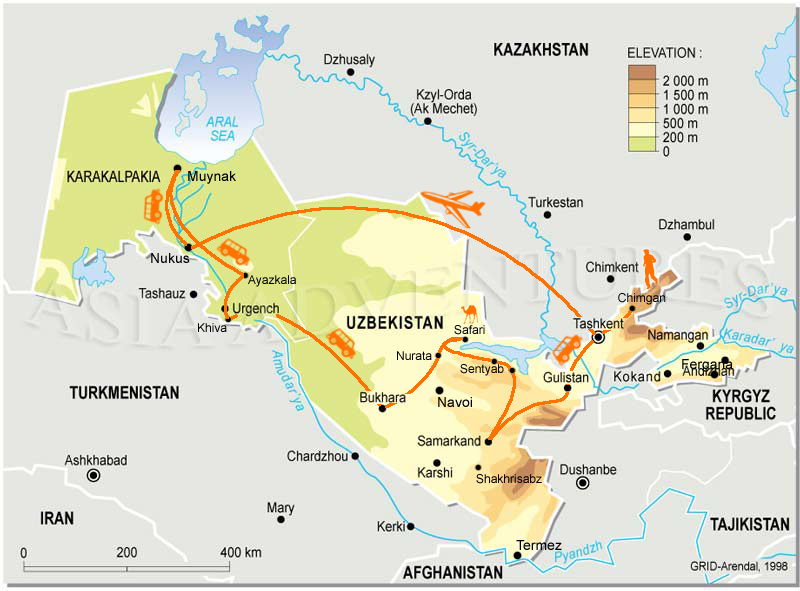 | | |
| --- | --- |
| Day 1 | Arrival to Tashkent. Transfer to the hotel. Rest. |
| Day 2 | Flight to Nukus. Sightseeing: Savitsky"s museum where it is possible to see unique collection of Soviet avant-garde pictures, exhibits of Karakalpakstan and Khoresm national arts and crafts. |
| Day 3 | One-day trip to Muynak - former seaport on Aral sea shore. A trip to epy "cemetery of the lost ships" in desert at the bottom of shrinked sea. Excursion to the museum of local lore study. On road excursion to Mizdakhkan. The complex includes Gyaur-Kala fortress with most ancient Central Asia cemetery. Here, according to scientists' opinion, Gayomard (Adam) - the primeval man of zoroastrizm mythology is buried in the construction called as "world hours", counting the time of life end on the Earth. Here unique Central Asia seven-dome underground mausoleum of sacred Shamun-Nabi with 25-meter long tomb is located. |
| Day 4 | Transfer to Khiva. On the way visiting an antique fortress Ayaz-Kala |
| Day 5 | Sightseeing in Khiva: Ichan-Kala – the city-museum on open-air, protected by UNESCO, Kalta-Minor minaret (XIX c.), Kunya Ark fortress (XVII c.) - a former residence of Khiva khans, Pakhlavan Mahmud - the national hero and the poet complex (XIV-XIX c.c.), Islam Khodja madrassah and minaret (1908 y.), Juma mosque (X-XVIII сс), Tash-Hauli and Allakuli Khan palaces (XVIII-XIX c.c.), bazaar market where world-known Khiva carpets are possible to buy. |
| Day 6 | Transfer to Bukhara via Kyzyl-Kum desert. Rest, walk across evening Bukhara. |
| Day 7 | Sightseeing in Bukhara: Chashma Ayub Mazar (graveyard) (XIV-XIX c.c.), Poi-Kalan complex (XI-XVI c.c.), Miri-Arab madrassah (XVI c.), Lyabi-Hauz complex (XVI-XVII c.c.), Samanid"s Mausoleum (IX-X c.c.), Nadir Divanbegi Madrassah (XVI c.), Ark - ancient fortress (VI-VII c.c.), Chor-Minor (XVIII c.) minaret. |
| Day 8 | Transfer to "Safari" yurt camp in Kyzyl-Kum desert. On road a dinner in Nurata. Camel back riding and walking through the desert. Supper in yurt camp at a fire place with accompany of local akyn (folklore singer) songs under bright oriental constellations. Spending the night in yurts. |
| Day 9 | Transfer to Sentyab-Say gorge. Walking in mountains. Night in homestay. Familiarizing with life and traditions of inhabitants. |
| Day 10 | Transfer to Samarkand (250km , 5h). After lunch sightseeing in Samarkand: Registan square - the "heart" of Samarkand - ensemble of 3 majestic madrassahs (XIV-XVI c.c.) – Sherdor, Ulugbek and Tillya Qory, Bibi-Khanum the gigantic congregational mosque (XV c.) |
| Day 11 | Continue of sightseeing: Guri-Emir mausoleum of Timur, his sons and Ulugbek the grandson (XV c.), Ulugbek's the well-known ruler and astronomer-scientist observatory (1420 y.) - the remains of an immense (30 m. tall) astrolabe for observing stars position, Shakhi-Zinda – "The Living King" (XI-XVIII c.c.) necropolis of Samarkand rulers and noblemen, consisting of set of superb decorated mausoleums, exotic Siab bazaar. |
| Day 12 | Transfer to Tashkent. Half-day sightseeing: - the old city including Barak-Khan madrassah (XVI c.), Kaffal-Shashi mausoleum (XVI c.), Kukeldash madrassah (XVI c.), Museum of Applied Arts, Independence Square, Friendship of Peoples Square, TashkentMetro, Theatre Square where Uzbek National Opera House is and others. |
| Day 13 | Transfer to Chimgan mountains. Walking and hiking on Charvak mountain reservoir. |
| Day 14 | Transfer to Tashkent. Rest, shopping and buying suvenirs. |
| Day 15 | Departure from Tashkent. |
Features tour
Duration, days
15
Countries
Uzbekistan
yes
Season
April
yes
May
yes
June
yes
July
yes
August
yes
September
yes
October
yes