Classic Uzbekistan
Classic Uzbekistan
Tour Code:
CUZ 01
Status:
Available
Classic Uzbekistan
Country: Uzbekistan
Type of tour: cultural
Season: all the year round
Duration: 8 days
The itinerary: Tashkent – Samarkand – Bukhara – Khiva – Tashkent
Our coach tour will immerse you deeply in the history of most ancient towns of the world - Samarkand, Bukhara, and Khiva. World famous monuments of ancient architecture remember Alexander the Great and Genghis Khan. Once Samarkand was the centre of vast medieval Tamerlan"s Empire. Tall and elegant minarets, grandiose madrassahs and mosques, medieval palaces and mausoleums decorated with incredibly rich ceramic ornaments, bustle and colors of oriental bazaars, thrilling legends, warm hospitality and hoary traditions of local people will leave indelible imprints in the memory of tourists.
BRIEF PROGRAM OF THE TOUR
| | |
| --- | --- |
| Day 1 | Arrival to Tashkent. Transfer to the hotel. Rest. |
| Day 2 | Sightseeing in Tashkent. After lunch – transfer to Samarkand. |
| Day 3 | Sightseeing in Samarkand. |
| Day 4 | Transfer to Bukhara. |
| Day 5 | Continue of the excursion in Bukhara. |
| Day 6 | Drive through Kyzyl-Kum desert to Khiva. |
| Day 7 | Sightseeing in Khiva. Afternoon transfer to airport, flight to Tashkent. |
| Day 8 | Departure from Tashkent. |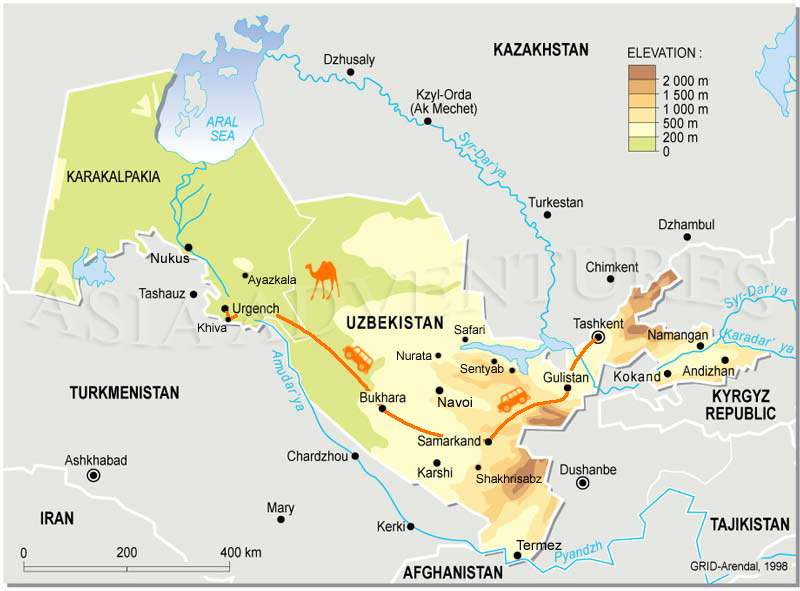 | | |
| --- | --- |
| Day 1 | Arrival to Tashkent. Transfer to the hotel. Rest. |
| Day 2 | Sightseeing in Tashkent: Old town, cult-architectural complex Khast – Imam (Khazret – Imam ) with grand Friday mosque, medieval Yunus-khan and Kafal-Shashi mausoleums (XVI c), Barakh – khan and Kukeldosh madrasahs (XVI-XVII c), Islamic University, library in Tillya Sheykh mosque with one of Osman caliph's (VII c) original Korans, the oldest in the world; Istiqlol square with Abdul Kasim madrasah (XVI-XVII c) (the craftsmen works and sells their original products and souvenirs here), Alisher Navoiy monument, great amusement park, аnd the color music fountain; Amir Timur square (Tamerlan) with the park, equestrian statue of Tamerlan, surrounded by historic and administrative buildings such as the Forum palace, the Timurids museum, Uzbekistan Hotel, Tashkent chimes, Tashkent University of Low and others; Courage monument – the monument to Tashkent people suffered from the destructive earthquake in 1966; Opera and Ballet theater, built by the Japanese prisoners of war in 1945, аnd the color music fountain; Mustaqillik (Independence) square with the Independence monument, "Ezgulik" arch, the eternal flame, the fountains; "Chorsu" eastern bazaar, decorative and applied art with the richest collection of Uzbekistan craftsmen's products. After lunch – transfer to Samarkand. |
| Day 3 | Sightseeing in Samarkand: Registan square - the "heart" of Samarkand - ensemble of 3 majestic madrassahs (XIV-XVI c.c.) – Sherdor, Ulugbek and Tillya Qory, Bibi-Khanum the gigantic cathedral Mosque (XV c.), Gur-Emir Mausoleum of Timur (Tamerlan), his sons and grandson Ulugbek (XV c.). Tamerlan's grandson Ulugbek's the well-known ruler and astronomer-scientist observatory (1420 y.) - the remains of an immense (30 m. tall) astrolabe for observing stars position, Shakhi-Zinda – "The Living King" (XI-XVIII c.c.) Necropolis of Samarkand rulers and noblemen, consisting of set of superb decorated mausoleums, exotic Siab bazaar. |
| Day 4 | Transfer to Bukhara (300 km, 5 hrs). Sightseeing in Bukhara: "The heart of Bukhara – historic- architectural complex Lyabi-Khauz with the oldest in Central Asia pool (XIV-XVII c) surrounded by medieval buildings madrasah and khanaka of Nadira Divan-begi (XV-XVI c) with the facade, decorated with gorgeous mosaic, Kukeldash madrasah (XV c) - the largest madrasah in Bukhara. Poi –Kalyan Complex includes: 48 m minaret Kalyan (XII c) – the symbol of Bukhara; large Friday mosque Kalyan (XV c) with galleries topped with 288 domes of 1 hectare area; the only one active madrasah in Bukhara Miri-Arab (XVI c). |
| Day 5 | Continue of sightseeing in Bukhara: the Samanids mausoleum (IX-X cc), Ark citadel (IV-XX cc) - the oldest residence of the Emirs, Chor-Minor – the original building of four minarets (XIX c). Sitorai- Mohi-khosa Palace (XIX-XX cc) - country summer palace of Bukhara Emirs. |
| Day 6 | Drive through Kyzyl-Kum desert to Khiva (500 km; ~ 8 hrs). En route a short stop for walking along Kyzyl-Kum desert and on a picturesque bank of Amudarya river. |
| Day 7 | After breakfast start sightseeing in Khiva: Ichan Kala – the museum under one sky, protected by the UNESKO as one of the world heritage masterpiece. Kalta-Minor Minaret (1855) – incomplete minaret of 26m height and base diameter of 16m height. It was planned as a highest minaret in Central Asia. Kunya-Ark (XVII-XIX cc) – the first palace of Khiva's khans, Pahlovan Mahmud mausoleum (XIV-XIX c), Islam Khodja madrassah and minaret (1908 y.). Juma-mosque (1789) - the original Friday mosque with flat roof, propped up by 218 wooden carved columns (X-XIX c) with magnificent acoustics. In the evening flight to Tashkent. On arrival transfer to hotel for 1 night. |
| Day 8 | Departure from Tashkent. |

Arrival dates
Tour cost
Available places
2*
3*
4*
04.03 - 11.03.2018
-
$555
$777

18.03 - 25.03.2018
-
$555
$777